A provocative new memo from a four-star Air Force general is sounding an alarm on China — and raising eyebrows among rank-and-file airmen.
Gen. Mike Minihan, who as head of Air Mobility Command oversees the U.S. Air Force's cargo and tanker fleet, urged airmen to be "unrepentantly lethal" in preparation for potential war with China that may be two years away.
Dated Feb. 1 and leaked on social media on Jan. 26, it's the first of eight monthly missives to prepare the mobility force for the so-called "peer conflict" with China that military leaders have warned of for years.
"I hope I am wrong," he wrote. "My gut tells me we will fight in 2025."
RELATED
Minihan predicted that Chinese President Xi Jinping, now in his third term with a newly set war council, will take advantage of the 2024 presidential elections in Taiwan and the U.S. to cause trouble.
Minihan did not explicitly mention a Chinese invasion of Taiwan, the self-governing island nation backed by the U.S. and claimed by China.
But he laid down the gauntlet for airmen to spend the next year preparing to "fight and win inside the 'first island chain,'" the region stretching from the Kuril Islands, around Japan and Taiwan, and down to the Philippines and Indonesia.
Maintaining the ability to issue orders in combat is paramount, Minihan said, as is navigating the vast Pacific where resources are scarce and GPS may be inaccessible. Troops must also get more comfortable with flying under attack, and move faster than before.
RELATED
Many of the four-star's first directives have more to do with base defense and bureaucratic preparation than with flying.
For instance, Minihan wrote, anyone under his command who is qualified to carry a weapon must practice shooting at a human-shaped target from 7 meters away.
"Unrepentant lethality matters most," Minihan said. "Aim for the head."
That's in line with an Air Force-wide push to train airmen more holistically — including in marksmanship — throughout the year. Previously, airmen were asked to brush up on a checklist of tasks in the weeks before a deployment, and were less likely to practice skills outside of their own jobs.
"In today's climate, we're more than airmen who only do accounting, supply, medical or mechanics," Senior Airman David Medeiros, a combat arms training and maintenance instructor at Travis Air Force Base, California, said in a Jan. 26 press release about M4 carbine rifle training.
RELATED
The memo also urges airmen to update their profiles in an emergency contact database used when troops are killed.
Minihan has highlighted the need to practice quickly moving large numbers of aircraft in the face of technical difficulties or under attack, to imitate what U.S. forces could encounter in the Pacific.
He praised one such exercise that launched 24 C-17 Globemaster III cargo planes from South Carolina in support of three dozen additional aircraft across the East Coast.
"This exercise is about readiness and lethality," Maj. Zachary Barry, a C-17 pilot and the exercise's lead planner, said in a release. "We wanted to get as many aircraft as possible off the deck in a 48-hour timespan to tell pacing threats that we can go anywhere, anytime."
The Pentagon refers to China as its "pacing threat" because its military prowess and plans rival those of the United States.
RELATED
In March, Minihan wants KC-135 Stratotanker crews to devise plans to launch 100 commercial drones from their aircraft — building on earlier experiments with drone swarming and dropping mass munitions from mobility assets.
Wargames conducted by the Air Force and the federally funded Rand Corp. think tank have shown that hundreds or thousands of small drones could distract Chinese air defenses and scope out the area, making it safer for manned aircraft to enter.
Not everyone is convinced. A flood of memes criticizing Minihan's "manifesto" as incendiary and self-serving erupted on social media in the days after it was leaked.
Some airmen argue that the KC-135, with its faulty autopilot and flight altitude restrictions, may not be the best choice for a weapons truck. Others quipped that the memo has convinced them to retire.
Rather than declare war with China, they said, the Air Force should focus on fixing systemic problems with pilot training and retention and aircraft maintenance.
But Minihan wants the force to make the most of the resources it has.
"My expectations are high, and these orders are not up for negotiation. Follow them," he wrote.
RELATED
The four-star is no stranger to eye-popping statements about deadly force.
He told an audience at the Air and Space Force Association's annual fall conference last September that "when you can kill your enemy, every part of your life is better."
"Your food tastes better, your marriage is stronger," he said.
"Why is the mobility guy talking about lethality?" he continued. "I'm not coming at you as a C-130 driver, I'm not coming at you as a mobility officer. I'm coming at you like an airman."
Like Eddie Rickenbacker, the most celebrated American aerial ace of World War I, he said. Like Curtis LeMay, the architect of the modern bomber force. Or like John Levitow, the loadmaster who threw himself onto a lit explosive flare to save his crew when their cargo plane was attacked over Vietnam.
"This is who we are," said Minihan, who oversees nearly 107,000 airmen and almost 1,100 cargo, tanker and VIP transport planes. "We are lethal. Do not apologize for it."
RELATED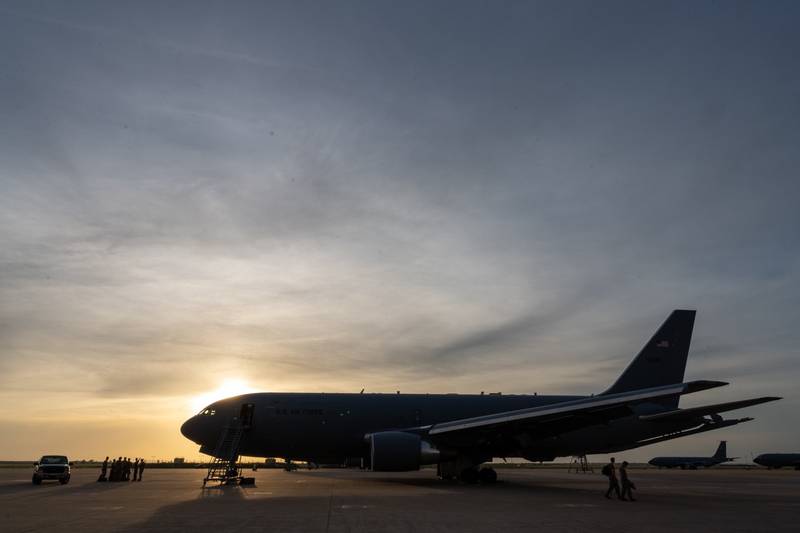 Before taking charge of Air Mobility Command in rural Illinois in 2021, Minihan had a front-row seat to the West's evolving relationship with East Asia. He became the Air Force's deputy for air operations in the Pacific in September 2013 and deputy ops director at U.S. Indo-Pacific Command two years later. Then he took chief of staff jobs within U.S. Forces Korea and INDOPACOM from 2017 to 2019, and served as the command's No. 2 officer for another two years.
That's shaped a worldview that conflict with China would become an all-or-nothing scenario.
"If we lose this, there is no access to the global commons. There is no 'free and open [Indo-Pacific].' There is no rules-based order," Minihan said. "The stakes are incredibly high."
When asked about Minihan's comments at a press conference on Monday, a Chinese Foreign Ministry spokesperson cautioned the U.S. to "stop creating new factors that could lead to tensions in the Taiwan Strait."
"The real cause of the new round of tensions across the Taiwan Strait is the [Taiwanese] authorities' continued act of soliciting U.S. support for 'Taiwan independence,' and the agenda among some people in the U.S. to use Taiwan to contain China," the spokesperson said.
The Pentagon reiterated its formal policy on China in response to Minihan's memo, saying its focus remains on working with partner nations to maintain the status quo.
"These comments are not representative of the department's view on China," a defense official told Air & Space Forces Magazine Jan. 28.
Rachel Cohen is the editor of Air Force Times. She joined the publication as its senior reporter in March 2021. Her work has appeared in the Washington Post, the Frederick News-Post (Md.), Air and Space Forces Magazine, Inside Defense, Inside Health Policy and elsewhere.
Share: