The Air Force's effort to add more airmen ― especially maintainers ― is beginning to allow it to fly more sorties, the head of Air Combat Command said Thursday.
But, ACC commander Gen. Mike Holmes said, the Air Force is still working to get the newly-minted maintainers with a skill level of 3 experienced enough to become 5-levels.
"We are seeing that our units are starting to be able to fly more, and fly better because of those people coming in," Holmes said at a breakfast briefing Thursday with reporters in Washington. "We'll continue to work to train those folks, and part of what it takes to do that is to have time to train them."

The Air Force struggled for years to close a devastating shortfall in its maintenance ranks, that at one point was as large as 4,000 airmen. Late last year, that gap closed to 200, and Air Force leaders expect it to be entirely eliminated this year.
Holmes told reporters that units that once had holes in their maintenance career fields are seeing those slots filled.
But the hiring boom has left the maintenance career field lopsided, with too many 3-level apprentices ―"brand new people right out of tech school ... that need time to train and experience," Holmes said ― and not enough 5- and 7-level journeyman and craftsman maintainers. Holmes said 5-levels can do more complex and unsupervised work on airplanes.
RELATED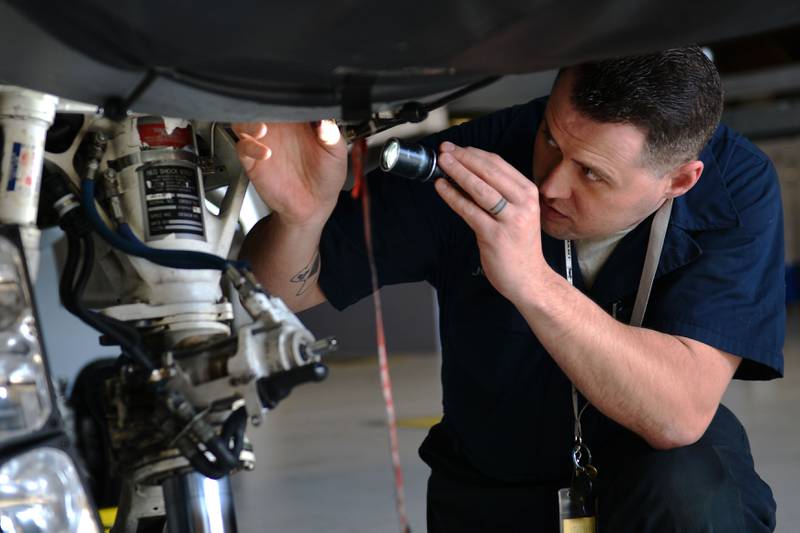 After a steep drawdown that left the Air Force with fewer than 313,000 active-duty airmen, the service has brought its end strength back up to 325,100. And the proposed fiscal 2019 budget calls for adding 4,000 more active-duty airmen, as well as 700 new Guard and reserve airmen.
Holmes said the Air Force "targeted quite a bit" of its end strength growth into aircraft maintenance.
"I think the people effect is there, and is having an effect," Holmes said. "And then as the 2018 dollars get spent and we get into the 2019 budget, then we'll see a continuing impact."

Holmes also said that the Air Force is asking the Defense Department and Joint Staff to reconsider units' deployment tempo to allow maintainers to get more training time. This will lead to more flying time, and improved readiness for squadrons, he said.
"That's about balancing the need to deploy, with the need to have time to train," Holmes said. "And then when they're home, we're working to balance the time that they're off doing exercises around the country, and the time that they're home, so they can train 3-levels to 5-levels, which happens best at home station. And as we train those people, then we'll be able to fly more."

Stephen Losey is the air warfare reporter for Defense News. He previously covered leadership and personnel issues at Air Force Times, and the Pentagon, special operations and air warfare at Military.com. He has traveled to the Middle East to cover U.S. Air Force operations.
Share: