The Air Force is growing to its largest level since the drawdown of 2014 — and that means good news for airmen hoping to add a stripe this year.
From staff sergeant to senior master sergeant, about 11,400 more airmen are eligible for promotion this year than in 2017. And with end strength slated to continue growing in 2018 and 2019, selection rates are likely to either stay steady or rise.
"In general, as you grow the force, you would expect to see promotions go up, because you're basically adding requirements across the board," Lt. Gen. Gina Grosso, the Air Force's personnel chief, said in a March 22 interview at the Pentagon.
All of that adds up to a lot more airmen — potentially thousands more — selected for promotion to E-5 through E-8. And it means 2018 is likely to see the highest number of enlisted selectees in at least a decade.
RELATED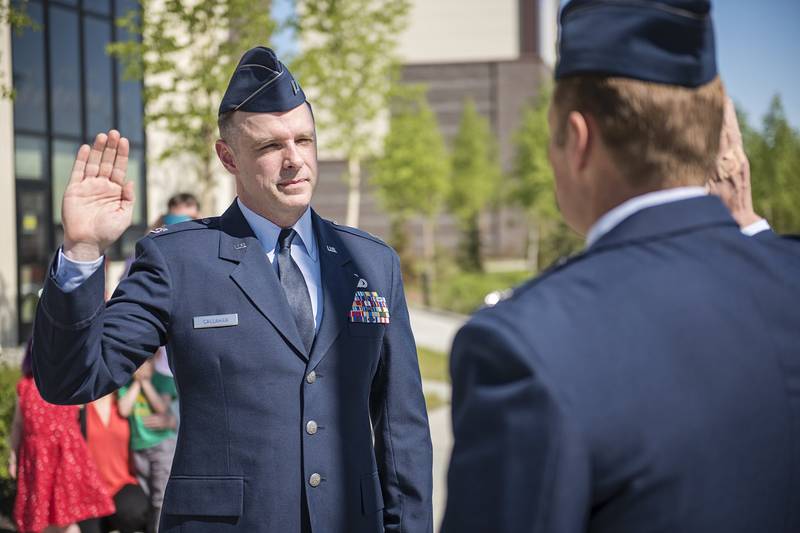 The trend is a sign that the Air Force is continuing to recover from the promotion drought that hit a nadir in 2014, the same time as the Air Force's dramatic sequestration-driven drawdown.
Early results for 2018 are encouraging.
In late February, the Air Force Personnel Center announced that 1,549 airmen had been chosen for promotion to senior master sergeant — more than the 1,391 selected for E-8 last year, and the second-highest number of selectees in a decade.
The next three promotion cycles are likely to contain more good news.
Master sergeants
The next enlisted promotion cycle will be for master sergeants, and it is expected to be announced the week of May 21.
Last year, 5,166 airmen were chosen for master sergeant out of 20,169 promotion-eligible technical sergeants. That equated to a 25.61 percent selection rate — the highest selection rate in five years.
This year, the Air Force said, the number of technical sergeants eligible for promotion to E-7 could grow to about 23,000.
The Air Force said it is too soon to tell how the E-7 statistics could change, but if the selection rate stays flat in 2018, roughly 5,900 airmen could become master sergeants. That would far surpass all other years in the last decade except 2011, when 6,618 E-7s sewed on their stripes.
Technical sergeants
Next up are technical sergeants, likely in late June or early July.
Last year, 8,167 staff sergeants were chosen for E-6 — but the number of E-5s eligible for promotion took a nosedive last year. That was in large part because of strict professional military education requirements that left almost 5,500 staff sergeants ineligible for promotion that year — and it meant that the selection rate spiked to a 15-year high of nearly 32 percent.
This year, technical sergeant promotions are going to be different.
The Air Force said 32,742 airmen will likely be eligible for E-6, which would be many more than the 25,552 who were eligible last year.
But, said spokeswoman Brooke Brzozowske, even with the 28 percent growth in tech sergeant eligibility numbers this year, the E-6 selection rate could stay close to what it was in 2017.
"A similar select percentage would still be very high in comparison to most years," Brzozowske said.
And if those high eligibility figures and selection rate hold, the number of airmen chosen for E-6 would spike to more than 10,400 — which would make it the highest number of tech sergeant selectees since 2002.
Staff sergeants
Wrapping up the summer, in late July or early August, will be staff sergeants.
Brzozowske said in March that about 38,800 junior airmen were eligible for promotion to E-5 at that time. However, Brzozowske said, that number was expected to decrease over the following months, and would probably end up about where it was in 2017 — roughly 32,000 promotion-eligible airmen.
But, she said, selection rates are likely to increase for staff sergeants this year over the 44.31 percent recorded last year. That means that for E-5s, the 14,181 airmen selected in 2017 would likely represent the lower end — and it could end up being higher.
Add the number of possible selectees for those four ranks together, and the Air Force can expect at least 32,000 promotions for E-5 through E-8 — the highest in at least a decade.
The only recent years that have come close were 2009, when about 30,000 were promoted in those ranks, and 2016, when less than 30,500 were promoted.
Chief master sergeasnts are usually announced in December, too far out for the Air Force to provide any figures.
Most years, only about 400 or 500 SNCOs are chosen for promotion to chief, meaning variations in that rank's selection rate have little effect on the overall quantity of enlisted promotions.
End strength growth
One key contributor to the increase in promotions is the growth of the Air Force.
The proposed budget for fiscal 2019 calls for adding 4,000 active-duty airmen, which would give it an end strength of 329,100. That's the most since the end of 2013, when the Air Force had an active-duty end strength of 330,700.
That's up from nearly 313,000 active-duty airmen in 2015, when the Air Force bottomed out after its drawdown with the lowest active-duty end strength level since 1947, the year the Air Force was created as an independent service.
The Air Force also hopes to add 700 more Guard and Reserve airmen next year. It remains to be seen how much the service will grow into the 2020s.
Chief of Staff Gen. Dave Goldfein said in March that he hopes to "set the throttle" to grow by another roughly 3,300 airmen each year after 2019.
RELATED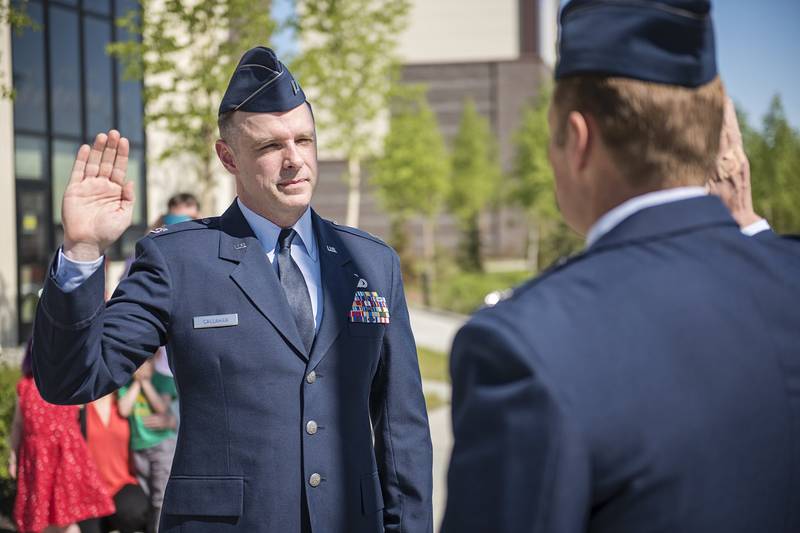 A top Air Force official said in late 2016 that the service hoped to hit 350,000 active-duty airmen by fiscal 2025. But with the release of a new National Defense Strategy, which focuses on a return to great power competition against superpowers like Russia and China, Grosso said that end strength goal is likely to change.
"We have a new defense strategy, which is very different than the previous strategy," Grosso said. "We may need a very different military than we have today, which spent the last 20 years fighting violent extremist operations."
The Air Force isn't yet sure where that target might end up and is just starting to do the work to figure that out.
"What we're doing right now is looking at that strategy and assessing what kind of human capital do we need?" Grosso said. "And then, what kind of missions are we going to do? What kind of people go with those missions, officer or enlisted or civilian? And then I think that will determine the end strength growth."
Grosso said it's so far unclear which career fields might need to be strengthened to help the Air Force meet its renewed focus on great power competitions, or what kind of balance between active-duty, Guard and Reserve airmen and civilian employees will be necessary.
"That's the million-dollar question, frankly," Grosso said.
But the Air Force will likely continue rebuilding its ranks of nuclear, cyber, intelligence, surveillance and reconnaissance, and maintenance airmen, as well as producing more pilots, as the service has focused on in recent years.
Grosso foresees, in the near future, an Air Force that increasingly uses technology to automate certain jobs across all mission sets that are now done by staffers. That will decrease its manpower needs.
"What you may have a person doing today, you won't have a person doing, because you're going to use technology to do that," Grosso said.
Stephen Losey is the air warfare reporter for Defense News. He previously covered leadership and personnel issues at Air Force Times, and the Pentagon, special operations and air warfare at Military.com. He has traveled to the Middle East to cover U.S. Air Force operations.
Share: