An American intelligence drone crashed after colliding with a Russian fighter over the Black Sea on Tuesday, the U.S. Air Force's European headquarters said in a release.
The MQ-9 Reaper drone was flying a routine surveillance mission in international airspace when it crossed paths with two Su-27 fighters around 7 a.m. local time, according to U.S. Air Forces in Europe.
The Russian jets began antagonizing the unmanned aircraft, repeatedly dumping fuel on and buzzing in front of the much smaller Reaper, the Air Force said. One Su-27 drew close enough to hit the drone's tail propeller, causing its remote operators to lose control of the plane.
RELATED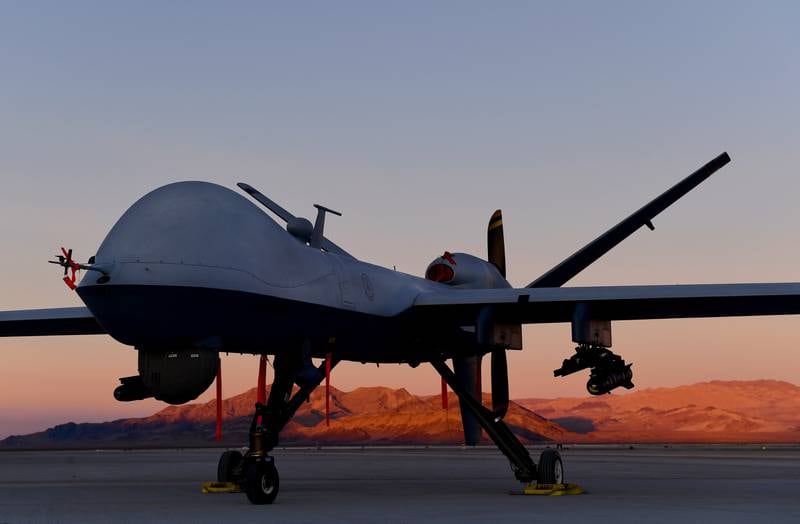 "Because of the damage, we were in a position to have to essentially crash it into the Black Sea," Pentagon spokesperson Brig. Gen. Patrick Ryder told reporters at a briefing Tuesday afternoon. "It was unflyable and uncontrollable, and we took it down."
He declined to answer whether the drone was armed at the time.
The incident resulted in a "complete loss" of the MQ-9 and nearly caused the Su-27 to crash as well, USAFE Commander Gen. James Hecker said in a release. The command declined to answer further questions on Tuesday.
Ryder said the Russians have not recovered the MQ-9, referring questions about American efforts to find the aircraft to the U.S. Navy. The Navy referred questions to U.S. European Command, which said it had no further details to offer.
Ryder confirmed that the Russian pilot landed after the collision, but did not say where. The Defense Department is working to declassify imagery of the incident.
It's the first time an unsafe interaction with Russian aircraft has downed a U.S. drone, according to John Kirby, a spokesman for the White House National Security Council.
"U.S. and allied aircraft will continue to operate in international airspace and we call on the Russians to conduct themselves professionally and safely," he said.
American and European air forces routinely intercept Russian aircraft that encroach on NATO airspace and push the limits of risky maneuvers. MQ-9 drones — known for their "eye in the sky" role in counterterrorism operations — have been a key part of U.S. efforts to surveil Russia's war in Ukraine for more than a year. The U.S. has flown Reapers from Poland, Romania, Greece and Estonia.
"These aggressive actions by Russian aircrew are dangerous and could lead to miscalculation and unintended escalation," USAFE said.
Defense Secretary Lloyd Austin has not talked to his Russian counterpart, Sergei Shoigu, about the collision, Ryder told reporters. The State Department said it would personally complain to Anatoly Antanov, Russia's ambassador to the United States.
President Joe Biden was briefed on the incident by National Security Adviser Jake Sullivan earlier in the day, Kirby told reporters.
"This MQ-9 was operating in international airspace over international waters and posed a threat to nobody," Kirby said.
While Kirby acknowledged that intercepts between American and Russian aircraft over the Black Sea are common, especially in recent weeks, he said Tuesday's run-in was "unique" and "noteworthy" for its disregard for safety and professionalism.
The U.S. has been consistently flying over the Black Sea's international airspace and will continue to do so, Kirby said.
In 2019, Iran shot down a U.S. Navy Broad Area Maritime Surveillance—Demonstrator drone, a version of the Air Force's RQ-4 Global Hawk, in the Strait of Hormuz, prompting then-U.S. President Donald Trump to consider a retaliatory strike. He later backtracked, citing potential civilian casualties. The two countries made contradictory claims, and U.S. military officials ultimately downplayed the incident.
The same year, the U.S. military alleged Libyan forces using Russian air defenses brought down a drone near Tripoli.
Rachel Cohen is the editor of Air Force Times. She joined the publication as its senior reporter in March 2021. Her work has appeared in the Washington Post, the Frederick News-Post (Md.), Air and Space Forces Magazine, Inside Defense, Inside Health Policy and elsewhere.
Joe Gould was the senior Pentagon reporter for Defense News, covering the intersection of national security policy, politics and the defense industry. He had previously served as Congress reporter.
Share: