In the days following the Sept. 11, 2001, attacks, the Defense Department sent two teams of Army Special Forces soldiers to Afghanistan to bring down the Taliban.

But the two didn't know about each other, and though each team's story became a book, they've been brought together for the first time in "Legion of Brothers," a documentary produced by CNN Films along with journalist Peter Bergen and documentarian Tresha Mabile. 

"All these years, we've become so compartmented because the war's continued. We didn't know each other's stories," retired Master Sgt. Scott Neil said Wednesday evening at a screening of the film in Washington, D.C. "I was amazed every time I would hear another team's stories about the things they did."

Using personal photos and video from the deployment, blended with group and individual interviews of the former members of 3rd Battalion, 5th Special Forces Group and their wives, director Greg Barker brought together the stories of Operational Detachment Alpha 574 and ODA 595.

Production began back in 2015 and, the retired Green Berets said, the opportunity to participate came just at the right time.

"Our entire team was nearing retirement, and we knew they were going to complete their time on active service," said retired Maj. Mark Nutsch, team leader of ODA 595 in the fall of 2001.

"For the American people to understand, kind of, how we went out on our mission that was extended for weeks and months," he said, adding that they did it all without body armor or tactical vehicles, living with Afghan partners and following an Afghan plan. 

Nutsch's team, who became known as the "horse soldiers" because of their old-school transportation, was in charge of leading the Northern Alliance in Afghanistan to unite against Taliban rule.


Green Berets from 5th Special Forces Group were among the first to deploy to Afghanistan after the Sept. 11, 2001, attacks. Some of them rode into battle on horseback alongside fighters from the Northern Alliance.

Photo Credit: Army


Meanwhile, in the south, retired Lt. Col. Jason Amerine led ODA 574, which was tasked with guarding future Afghan president Hamid Karzai as he coordinated his Pashtun allies to bring down the Taliban in their Kandahar stronghold.

The campaign was considered a stunning victory — a couple dozen guys in their early 30s taking down a brutal regime — with a tragic end.

On the morning before the Taliban surrendered, an Air Force bomber accidentally dropped a joint direct attack munition on ODA 574's position outside the city.

"Everyone I've ever led in combat has been killed or wounded," Amerine said in the film.

Master Sgt. J.D. Davis was killed immediately in the blast, while Sgt. 1st Class Daniel Petithory died of his injuries later that day.

An investigation later found that the Air Force joint tactical air controller attached to the unit had accidentally calibrated his equipment with his own coordinates rather than those of the target ordered by battalion commander Lt. Col. David Fox.

"What makes it so personal, and really kind of sinks its claws in me, is that we had two friendly fires within a week of each other caused by headquarters bombing themselves, that never should have been calling in airstrikes," Amerine told Army Times.


Hamid Karzai, center, who would go on to be the president of Afghanistan, stands with members of 5th Special Forces Group's Operational Detachment Alpha 574 during the early days of the war.

Photo Credit: Army


The Green Berets theorized in the documentary that Fox wanted to bomb a suspicious looking cave that day, hours before the Taliban were due to surrender, to score himself points as a battlefield commander.
 
"It's something that I'll take to my grave with me," Fox said in the documentary.

Lessons, not learned

"I think we did make it look too easy," Amerine said in the film.

Asked after the screening what went wrong in the ensuing 14 years of combat deployments to Afghanistan, the retired officer said there was a failure to debrief.

"Fifth Group never captured the lessons learned. We never did the, 'What should we sustain? What should we improve?'" he said. "What was amazing was the organization worked, the training worked, the organizational culture worked."

But once they got home, the team was quickly spun up again to help with the Iraq invasion while "big Army" sent brigades into Afghanistan.

The plan was to "cordon off Baghdad and train up some guerrilla forces to take Baghdad in a couple months," Amerine added. "There were insane things that, to me, showed that people really didn't get what went on in Afghanistan."

The reason it worked early on, the men said, was because they worked with Afghan leaders and, essentially, helped them execute their own home-grown plan.

"All of that was forgotten and kind of left behind, and that was kind of the tragedy of what followed," Amerine said. "When big Army came in, 5th Group picked up and went to Iraq. All of our relationships were lost. They had to reinvent the wheel."

Now, the Army is reaching back to those legendary ODAs for their wisdom. A year and a half ago, Nutsch and retired Chief Warrant Officer 4 Bob Pennington, an ODA 574 veteran, visited 5th Group to talk about the current conflicts in Iraq and Syria.

"The teams now are a lot younger than we were at that time ... but that doesn't take away from how good those guys are on the battlefield and what they can do, especially when they work with the indigenous forces and apply all the knowledge that they've learned in all the schools that we actually produce," Pennington said.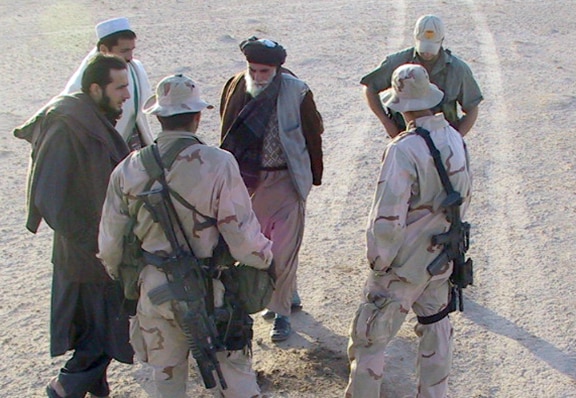 Army special operators confer with Afghan chieftains and resistance fighters during the early days of the war in Afghanistan. Beginning Oct. 19, 2001, 12-man Special Forces detachments from 5th Special Forces Group began arriving in Afghanistan in the middle of the night.

Photo Credit: Army


The men were once again reminded of the operation late last year, when retired Marine Gen. Jim Mattis was nominated by President Donald Trump to be the defense secretary.

When the JDAM hit ODA 574 on the morning of Dec. 5, 2001, the closest medevac support was 45 minutes away at Camp Rhino, a forward operating base in Afghanistan, where then-Brig. Gen. Mattis was in charge of more than 1,000 Marines.

Mattis, according to reports, declined to send help because, at the time, no one knew that it was a friendly bomb — and he opted not to risk his men in the midst of what could have been an enemy attack.

The story of the attack and the aftermath is recounted extensively in the book "The Only Thing Worth Dying For," by Eric Blehm, which was published in 2011.

In the meantime, Petithory succumbed to his injuries before an Air Force medevac arrived hours after the attack. That decision still doesn't sit well with Amerine.

"Everyone involved in both sets of decision making, basically, was selected for promotion," he said. "The guys that killed my men became generals."


It was part of the culture back then, Amerine said.
"A lot of careers, in my opinion, should have ended over a lot of the things that went on in '01," he said. "It felt to me like in '01, we really didn't want to acknowledge heroism, and we didn't want to acknowledge the cowards. The awards we put in for our guys for valor were all downgraded."
Others came to Mattis' defense, citing the chaos and short-order planning at the time.
"Commanders, I'm sure, would like a do-over. No doubt," Nutsch said. "I hope these other commanders have learned their lesson, and I hope some of these mistakes aren't repeated again."
"Legion of Brothers" is set for a limited release over Memorial Day weekend. It will air on CNN this fall, Barker added, before going to Hulu.
Meghann Myers is the Pentagon bureau chief at Military Times. She covers operations, policy, personnel, leadership and other issues affecting service members.
Share: