Over the past few months, Facebook feeds — and even official defense media sites — have been flooded with photos and videos of people dropping to the ground and doing 22 pushups to raise awareness of the problem of veterans and suicide.

But the Air Force is now warning airmen that while they are allowed to take part in such challenges, doing so while in uniform or on duty, even if their intentions are good, could violate the Defense Department's policies against endorsements and fundraising. The release emphasized that  fundraising can't be done during duty hours, although lunch hours are OK, or while in uniform or in the workplace.

"While [airmen] are allowed to participate in activities to honor fallen airmen or bring awareness to issues like suicide, if these activities are associated with any type of nonprofit, non-federal entity, or fundraising or membership campaign, it cannot be done in an official capacity," according to a Sept. 30 Air Force release that described something very similar to the 22 Pushup Challenge, although it didn't refer to it by name.

A nonprofit group called 22Kill has adopted the challenge, and the related hashtags #22pushups and #22kill, to help raise awareness of veteran suicide and raise money to sponsor veterans in programs that help them manage wounds such as depression, brain injuries and post-traumatic stress. The number refers to a commonly cited statistical estimate of how many veterans kill themselves each day, although a recent Department of Veterans Affairs study stated that the actual number is closer to 20 a day.


Jacob Schick, the executive director of 22Kill and a Marine veteran who lost a foot to an IED in Iraq, expressed irritation and disbelief at the Air Force's announcement.
"I think it's stupid," Schick said. "When you have an entire brigade in the U.K. doing the same thing, and the Air Force says you can't do it on government time even though it's for the cause of veterans, I'm not sure how that makes any sense whatsoever."
A video on YouTube shows hundreds of British soldiers from the 8 Training BattalionRoyal Electrical and Mechanical Engineers at MoD Lyneham doing the challenge.
"I guess we're just going to let the U.K. show us up continually," Schick said. "We want you to join the military and fight for freedom, but you can't have your own? I'm dumbfounded right now."
Some parts of the Air Force have previously encouraged airmen to participate in the challenge. Airmen at Edwards Air Force Base in California, for example, recruited other airmen to take part, because September was Suicide Prevention Awareness month, and Edwards issued a press release and photosof the event. The 920th Rescue Wing at Patrick Air Force Base in Florida also issued an official photoof an airman doing pushups for the challenge in her office, as did SchrieverAir Force Base in Colorado.
The Army told Air Force Times that it similarly disallows soldiers from taking part in the challenge while in uniform or on duty, though it has not issued a public release on the matter.
In an email, Navy spokesman Ensign Marc Rockwellpate said "The Navy is not specifically discouraging or forbidding sailors from participating in the 22 Pushup Challenge. However, all DoD employees must abide by the Joint Ethics Regulation, which is clear concerning such activities. Endorsement of a non-federal entity, event, product, service, or enterprise may be neither stated nor implied by DoD or DoD employees in their official capacities. [T]itles, positions, or organization names may not be used to suggest official endorsement or preferential treatment of any non-federal entity except those specifically listed in the" ethics regulations, which 22Kill is not. Rockwellpate encouraged sailors who want to take part in the pushup challenge to check with their legal offices to see what is appropriate.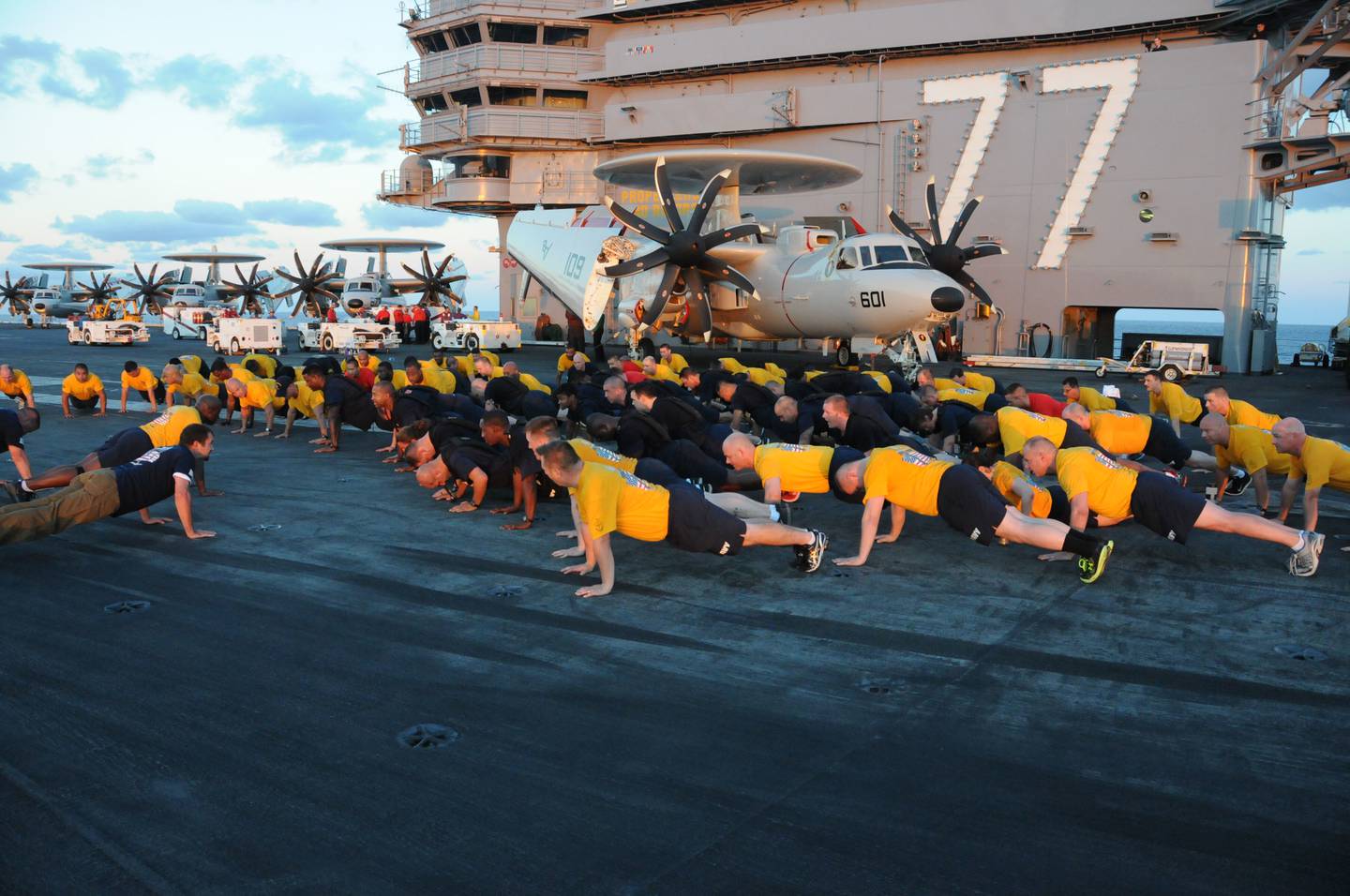 Chiefs and chief-selects do 22 pushups for the 22Kill Challenge aboard the aircraft carrier George H.W. Bush Aug. 22. "22Kill is a veterans' advocacy group that brings awareness to the daily veterans' suicide rate," says the Navy's photo caption.
Photo Credit: Seaman Tristan Lotz/Navy
The Marine Corps is still reviewing its policies to see whether Marines are allowed to take part while in uniform or on duty.
This is not the first time the military has stepped in to warn troops about a social media trend. In 2014, when the Ice Bucket Challengespread across social media to raise money for amyotrophic lateral sclerosis, the DoD Office of General Counsel warned service members they couldn't have ice water dumped on them while in uniform.
That year, the Navy's Blue Angels had previously posted, and later removed, a video showing their team getting soaked with ice water.
But Schick said the Air Force should consider the cause motivating the pushup challenge before discouraging airmen's participation while in uniform or on duty.
"You would think the Air Force would condone such a cause, given what it represents," he said. "This is an epidemic plaguing the warrior community. Let's fight it together, because that's how you win things."
Stephen Losey is the air warfare reporter at Defense News. He previously reported for Military.com, covering the Pentagon, special operations and air warfare. Before that, he covered U.S. Air Force leadership, personnel and operations for Air Force Times.
Share: