Flags were lowered to half-staff Saturday at Bagram Airfield, Afghanistan, as U.S. troops paused to remember six brave airmen who were killed Friday when their C-130 crashed, along with five civilian passengers and an unknown number of people on the ground.
Capt. Jonathan J. Golden, 33; Capt. Jordan B. Pierson, 28; Staff Sgt. Ryan D. Hammond, 26; and Senior Airman Quinn L. Johnson-Harris, 21, were all assigned to the 39th Airlift Squadron at Dyess Air Force Base, Texas, according to a Defense Department news release. They were the plane's crew: tTwo pilots and two loadmasters.
"We are all mourning the loss of these incredible young men, but no one more than those who lost their loved ones," Col. Stephen Hodge, 317th Airlift Group commander, said in a news release. "These Airmen were our friends and our family, and the halls of the group and the skies overhead will never be the same without them. Though they are no longer with us, the memories of those whose lives they touched will remain forever."
Senior Airman Nathan C. Sartain, 29; and Airman 1st Class Kcey E. Ruiz, 21; were both assigned to the 66th Security Forces Squadron at Hanscom Air Force Base, Massachusetts, Saturday's news release says. They performed fly-away security team missions, guarding aircraft, cargo, crew and passengers, according to a news release from Hanscom.
"These Airmen were rock stars," 66th Security Forces Squadron Commander Maj. Joseph Bincarousky said in the news release. "Their enthusiasm and dedication inspired peers and unit leadership alike. This is the type of young airman the Air Force needs more of; their absence is palpable."
The C-130J crashed soonshortly after midnight local Afghan time on Friday shortly after takeoff at Jalalabad Airfield, Afghanistan. Although the Taliban claim to have shot the plane down, enemy fire is not suspected as a cause in the crash.
"Today was a tough day for the Vulture Nation," Brig. Gen. Dave Julazadeh, 455th AEW commander, said at a fallen comrade ceremony on Saturday, according to a news release. "We mourned with the families of Jordan, JJ, Ryan, JH, Nathan and Kcey. "We owe it to these warriors to complete the mission for which they gave their lives to protect and defend the freedoms upon which our great nation was built. We must never forget them or the sacrifices they made."
The plane was assigned to the 774th Expeditionary Airlift Squadron, which is part of the 455th Air Expeditionary Wing. All of the wreckage is within the confines of Jalalabad Airfield.
"We've taken a blow, but I'm proud of the way we've come together and supported each other," Lt. Col. Mitchell Spillers, 774th Expeditionary Airlift Squadron commander, said in the news release about Saturday's ceremony. "That must continue. We're a tactical airlift unit that provides a lifeline to our forces than no else can. Our mission will continue and we must carry on. Jordan, JJ, Ryan and JH all loved what we do, and would expect nothing less."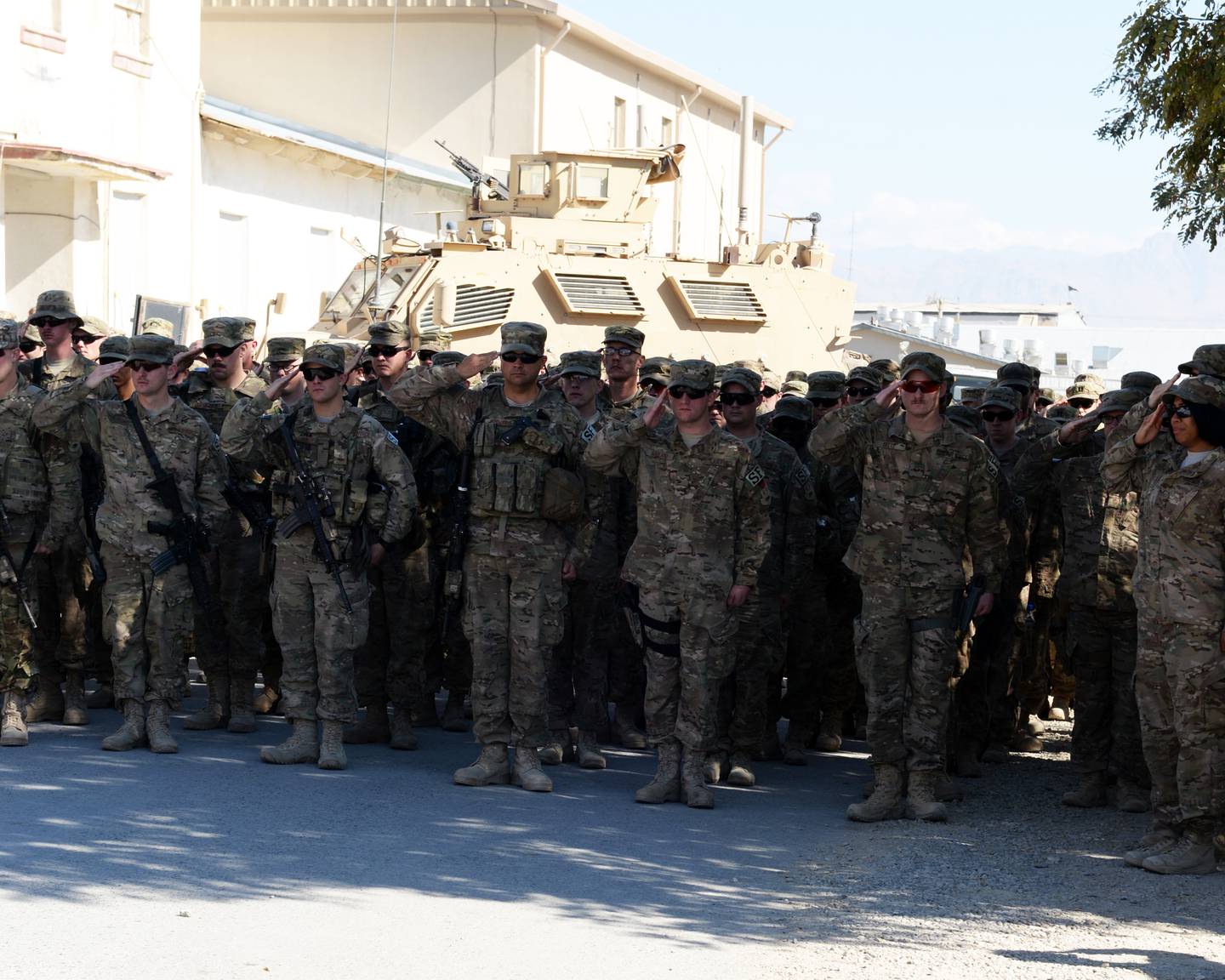 Airmen from the 455th Expeditionary Security Forces Squadron salute during a fallen comrade memorial ceremony for six Airmen, Oct. 3, 2015, at Bagram Air Field, Afghanistan. )
Photo Credit: Senior Airman Cierra Presentado/Air Force
Maj. Met Berisha commander of the 455th Expeditionary Security Forces, urged airmen to "mount up and get back to our posts, get back to our patrols, and get back in those aircraft" because that is what Sartain and Ruiz would want them to do, the news release from the 455th Air Expeditionary Wing says.
"I knew that without a doubt, that when our nation sent an aircraft into harm's way into an unsecured and dangerous Afghan airfield that the aircrew and aircraft were defended by the finest security forces airmen our Air Force could possibly deliver," Berisha said in the news release. "Simply put, Ruiz and Sartain loved securing and projecting combat airpower for our nation. Their families not only raised fine American patriots, but they raised heroes that we all had the humble honor and phenomenal privilege to serve alongside with here."
C-130s are used to transport military personnel and cargo. The plane was carrying five civilian contractors when it crashed. An undetermined number of people were killed on the ground, said Maj. Tony Wickman, a spokesman for the 455th Air Expeditionary Wing.
"We know we have fatalities on the ground, however I cannot confirm the amount or disposition of them ... who they are or in what capacity they served at Jalalabad Airfield," Wickman said in an email Friday to Air Force Times.
On Friday, President Obama issued his condolences to the families of the airmen and contractors killed in the crash.
"In addition to the Americans we mourn, we also are saddened that Afghan civilians lost their lives in this incident," Obama said in a statement.  "As we mark this terrible loss of life, we are reminded of the sacrifice brave Americans and our Afghan partners make each and every day in the name of freedom and security.  Their willingness to serve so selflessly will not be forgotten.  Our thoughts and prayers are with the victims' families and loved ones during this difficult hour. May God bless their souls."
Share: