An Air National Guardsman was fatally stabbed during a road rage incident in Lee's Summit, Missouri, and now police are searching for the driver who allegedly killed him, local law enforcement officials said.
Cody Harter, 23, was driving a maroon Chevy at roughly 7:30 p.m. Saturday, when he reportedly pulled over to a median off a Missouri interstate.
"It appears our victim was in traffic and involved in some type of altercation with another person in traffic," said Chris Depue, a spokesman for Lee's Summit Police Department, which responded to the incident.

"Two cars are on the shoulder, and [witnesses] saw two men outside those vehicles arguing in what appeared to be a disturbance or a fight," he added.
The dispute escalated, and the unidentified motorist allegedly stabbed Harter before fleeing in his vehicle northbound on the highway, police said.
The attacker has not yet been found. Police held a press conference Sunday in order to draw attention to the case and urged anyone who saw the altercation to reach out.
Additionally, police said they gathered surveillance video from a six-mile stretch in the vicinity of the stabbing that they are still searching through for answers.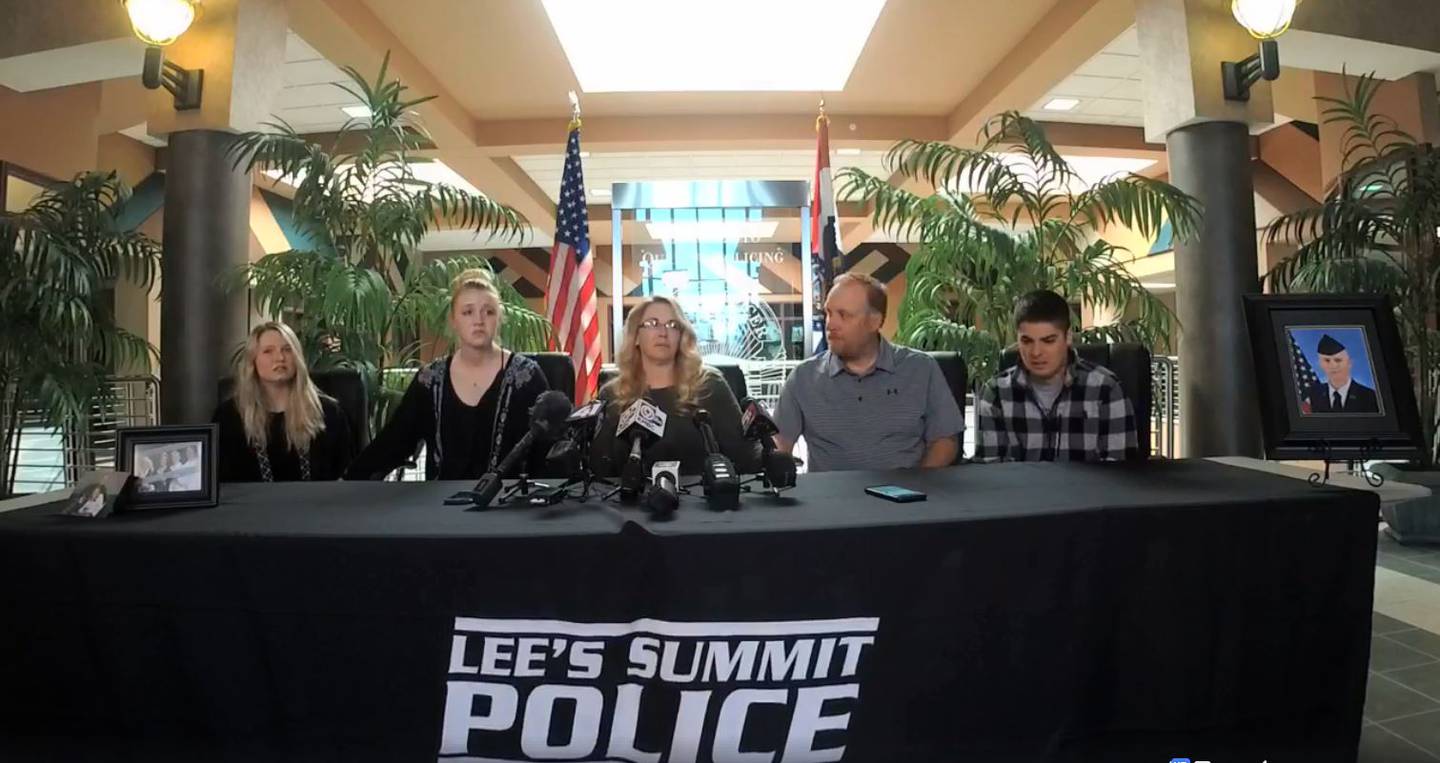 Harter served in the Missouri Air National Guard as a loadmaster and had completed a tour in Iraq and Qatar, his mother said at the press conference. Harter also helped assist with hurricane relief efforts in Houston and Puerto Rico.

"He had been to war and back, and to die because someone was angry," Kerrie, Cody's mother said. "Don't let him just be a number. ... Please come forward and say something, anything."

Harter was one semester short of a degree in engineering technology from Missouri Western State University in St. Joseph, his family said. He also ran a small lawn care business when he wasn't riding his dirt bikes.
"He loved his lawn care business because he could mow when he wanted to and get to the dirt track on weekends," his mother said.

During the press conference, Kerrie was flanked by her husband, their daughter, a fellow airman who served with Cody, as well as Cody's girlfriend.
Before the incident, Harter's father, Mike, said Cody called them to let them know he was on his way home.
"He came down yesterday to pick up a mower," Mike said. "He called his mom on the way home and said, 'I love you. I'll be home in just a bit.'"
Harter's mother said that by the time police arrived on-scene, other motorists had pulled over and were already with Cody, trying to help him in his final moments.
"Even though you left him to die alone," his mother said to the attacker who fled, "he didn't."

Kyle Rempfer is an editor and reporter whose investigations have covered combat operations, criminal cases, foreign military assistance and training accidents. Before entering journalism, Kyle served in U.S. Air Force Special Tactics and deployed in 2014 to Paktika Province, Afghanistan, and Baghdad, Iraq.
Share: