Nearly a day after the Pentagon grounded all U.S. F-35s, the 13th Marine Expeditionary Unit and all three active Marine air wings are back to normal F-35 flight operations.
On Thursday, the Pentagon announced the temporary grounding of its F-35 fleet, citing mandatory inspections for a fuel tube suspected in a Sept. 28 crash of the high-tech fighter near the Marine air station in Beaufort, South Carolina.
"Currently, all 2nd MAW [Marine Aircraft Wing] F-35B's with Marine Fighter Attack Training Squadron 501 (VMFAT 501) have been inspected," Marine spokesman 1st Lt. Sam Stephenson told Marine Corps Times.
RELATED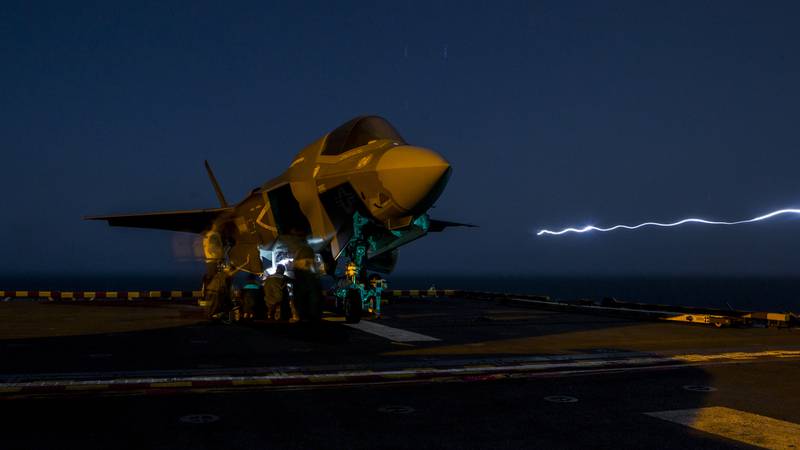 Marine officials wouldn't provide figures on how many aircraft were cleared to fly with 2nd MAW, citing operational security concerns, but the stealth fighters with 2nd MAW are currently cleared to fly out of Beaufort.
The 2nd Marine Aircraft Wing is headquartered out of Cherry Point, North Carolina, but has aircraft at Marine air stations in New River, North Carolina, and Beaufort.
"The 1st Marine Aircraft Wing is complying with the inspection requirement associated with the temporary F-35 stand down and has resumed normal F-35B flight operations with aircraft that have been found in compliance," Maj. Eric Flanagan, a Marine spokesman, said in an emailed statement.
Marines with 1st MAW are headquartered out of Okinawa, Japan.
The 3rd Marine Aircraft Wing, based out of Miramar, California, has also resumed normal F-35 flight operations, according to Maj. Josef Patterson, a Marine spokesman.
There also are F-35Bs embarked aboard the Wasp-class amphibious assault ship Essex with the 13th Marine Expeditionary Unit, which just transited the Strait of Hormuz and into the Persian Gulf.
"All 13th MEU F-35Bs have been cleared to resume normal flight operations based on the results of the inspection directed by the Joint Program Office," Maj. Joseph P. Reney, a spokesman with Marine Forces Central Command, told Marine Corps Times in an emailed statement.
But Marine officials would not provide any further details citing operational security.
"If suspect fuel tubes are installed, the part will be removed and replaced. If known good fuel tubes are already installed, then those aircraft will be returned to flight status. Inspections are expected to be completed within the next 24 to 48 hours," the Joint Program Office said in a statement Thursday.
The pilot in September's F-35B crash ejected safely from the aircraft.
Shawn Snow is the senior reporter for Marine Corps Times and a Marine Corps veteran.
Share: